1.
Our prices are quoted in EURO (EUR, €) and are including German VAT.
Additional shipping fees
will be charged to the customer.
2.
Miracle Games shall not be responsible for any errors or omissions contained at this website, and reserves the right to make changes without notice. Accordingly, all Miracle Games information and third party information is provided "AS IS".
3.
Miracle Games can not be held liable for any kind of damage that occurs during transport. As soon as the ordered goods are handed over to our carrier the customer takes the risk of loss or destruction of the shipped goods.
4.
You can send back articles within a period of 30 days after delivery.
Please note:
We take back only articles that are sealed and in the original packaging.
That means that we
cannot take back used articles like single cards or packs.
However, if you contact us quickly after you have received our delivery we might be able to make an exception.
In any case... please contact us before sending back articles.
email:
order@miraclegames.de
.
5.
Applicable Law:
For all orders, national or international, German law applies under the exception of the UN-Buying law.
6.
Miracle Games Club:
The membership is free of charge and is not connected to any legal obligations to buy at Miracle Games. Members of the Miracle Games Club can collect bonuspoints for ordering single cards or for participating in special member prize draws. The bonus-system can be cancelled at any time by Miracle Games. The end of the bonus system will be indicated in time, in order to give customers the chance to change their bonuspoints into price discounts.
7.
Privacy / Protection of personal data:
Miracle Games saves both the customer address and order / member information in electronic and in printed ways. This data will not be given to third parties. The customer can request us to delete the personal data after the completion of the order / transaction.
8.
We do not take any responsibility and cannot be held liable for the content of other web-sites to which we refer via hyperlinks.
9.
If one single paragraph of our terms and conditions is or will become void, the other regulations will not be affected.
---



Miracle Games is a German retailer specialized in Magic: The Gathering cards.

Miracle Games is the online-shop of: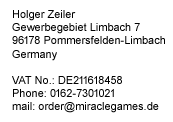 | | |
| --- | --- |
| Save money | |
| | |