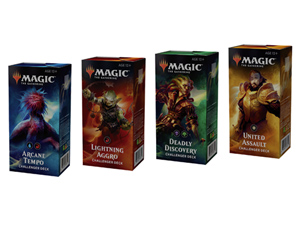 Challenger Decks enable a quick start in Standard and are perfect for players who wants to avoir deck building and prefer to start playing right away.
---
Challenger Decks 2022
For details click the article name
---
Pioneer Challenger Decks 2021
These decks are built to battle in Pioneer!

Four different 75-card decksŚeach featuring a different strategyŚare ready to play out of the box. Each Challenger Deck comes with a complete 60-card main deck and a 15-card sideboard.
These decks are intended to be playable and competitive at a local level, ready to challenge friends and foes alike. All cards have been previously printed in Pioneer-legal sets and are legal in the Pioneer format.
Contents: 4 different Challenger Decks:
- Azorius Spirits
- Lotus Field Combo
- Mono Red Burn
- Orzhov Auras
Each deck contains:
- 60-card main deck, ready-to-play
- 15-card sideboard
- card box
Release: 15.10.2021
For details click the article name
---
Challenger Decks 2021
For details click the article name
---
Challenger Decks 2020
For details click the article name
---
Challenger Decks 2019
For details click the article name
---
Challenger Decks 2018

Challenger Deck: Vehicle Rush (eng)
Special offer
While stocks last
Delivery time : 1-3 days
32,95 €*
For details click the article name