Global Series: Jiang Yanggu vs. Mu Yangling contains two 60-cards decks with two new Planeswalkers telling their story.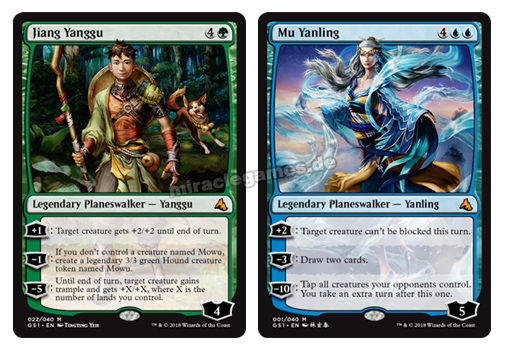 Jiang Yanggu
wanders the world accompanied by his faithful companion, Mowu, searching for clues to a past he can't remember.
Mu Yanling
, an enigmatic storm mage, remembers her tragic past all too clear but will never give up hope of saving those she loves. When their paths collide on a secret magical mountain, they realize they both may be caught up in a greater mystery than they ever imagined.
Information for tournament players: The exclusive cards of this set are standard-legal only in China.
Content:
- Two 60-card decks, including two premium planeswalker cards
- One Premium double-sided token
- One informational sheet.
Language: english

Global Series Jiang Yanggu & Mu Yanling
not available
For details click the article name