---
Special offers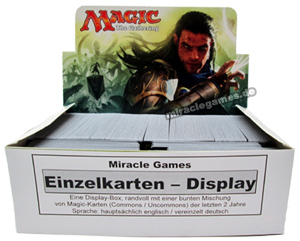 Magic-cards for a very low price!
Great for beginners or players that have paused for a while who are looking for cheap cards.
UNSORTED
These cards are NOT sorted, i.e. there might be more cards of some colors / expansions than others.
Details:
- Rarity: Commons or Uncommons (see product description)
- Expansions: mainly sets after 2012 (Shadows over Innistrad, Oath of the Gatewatch, Battle for Zendikar, Dragons of Tarkir, Fate Reforged, Amonkhet, Ixalan, Kaladesh, Guilds of Ravnica, Commander Sets, Duel Decks, Conspiracy and so forth).
- Language: mainly English / some German

0,99 €*

For details click the article name
---
Colored packs
Magic cards assortment
These packs are so sorted by color that they contain cards of only one color (200-packs), or an equal quantity of each color (1000-pack). We try to pack so many different cards as possible so that no card is contained more than 4x in a pack. It can however happen that in rare cases some cards are contained more often.

Quantity:
200 or 1000 cards

Colors: mix or single-color

Expansions: mix, from old til new

Language: mostly english, some german

Condition: mint / near mint, some light played
For details click the article name