Imprint
Responsible for the pages of www.miraclegames.de: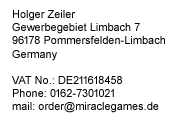 Online dispute settlement according to Art. 14 Abs. 1 ODR-VO: The European Union offers a platform for online dispute settlement OS, that you can access here: http://ec.europa.eu/consumers/odr/.
In reference to ž36 Abs. 1 VSBG we inform you, that Miracle Games, Holger Zeiler is not obliged and not willing to participate in a dispute settlement procedure in front of a consumer conciliation committee.