back
Dominaria United - Set Booster (GER)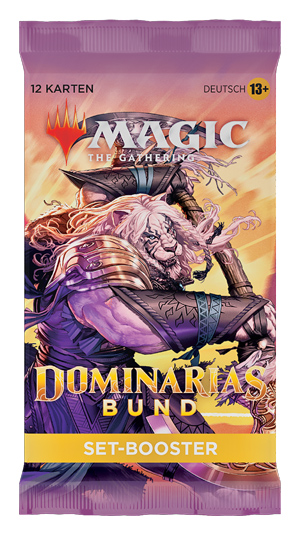 Article details
Manufacturer
: Wizards of the Coast
Language
:

german
Preorder
Release: 09.09.2022
available from 09.09.2022

Description:
Dominaria United SET-Booster
GERMAN VERSION
Manufacturer info:
Each Dominaria United Set Booster contains 12 Magic cards, 1 Art Card, and 1 token/ad card or card from ┤┤The List┤┤ (a special card from Magic┤s historyŚfound in 25% of packs).
Every pack includes a combination of 1ľ4 card(s) of rarity Rare or higher and 4ľ7 Uncommon, 3ľ6 Common, and 1 Land cards. Traditional Foil Land replaces Land card in 21% of Set Boosters. Foil-Stamped Signature Art Card replaces Art Card in 10% of Set Boosters. Traditional Foil Borderless Mythic Rare Planeswalker in <1% of boosters.
Contents:
1 Dominaria United SET-Booster pack containing 12 Magic cards.
Rarity distribution per pack:
1-4 rares or mythic Rares
4-7 uncommons
3-6 commons
1 basic land card
Additional info:
At least 1 Legendary Creature and 1 Traditional Foil card in every pack
Language: German
Release date: 09.09.2022
Article details
Manufacturer
: Wizards of the Coast
Language
:

german