back
March of the Machine - Set Booster (GER)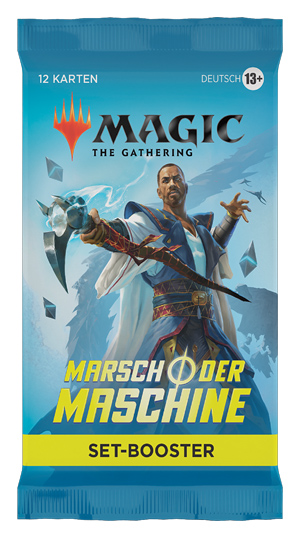 Article details
Manufacturer
: Wizards of the Coast
Language
:

german
Preorder
Release: 21.04.2023
available from 21.04.2023

Description:
Phyrexia: All Will Be One SET-Booster
The Phyrexian invasion of the Multiverse has begun ! Will you take up the fight against the Machine Legion ?
Contents:
1 March of the Machine SET-Booster pack containing 12 Magic cards.
Rarity distribution per pack:
1-5 rares or mythic Rares
3-8 Uncommons
2-7 Commons
1 Land card
Additional info:
1 nonľArt Card and nonľLand card of any rarity is foil. Traditional Foil Borderless Mythic Planeswalker in <1% of boosters. Foil-Stamped Signature Art Card replaces Art Card in 10% of boosters.
Language: GERMAN
Release date: 21.04.2023
Article details
Manufacturer
: Wizards of the Coast
Language
:

german