back
The Lord of the Rings: Tales of Middle-Earth - Set Booster Display eng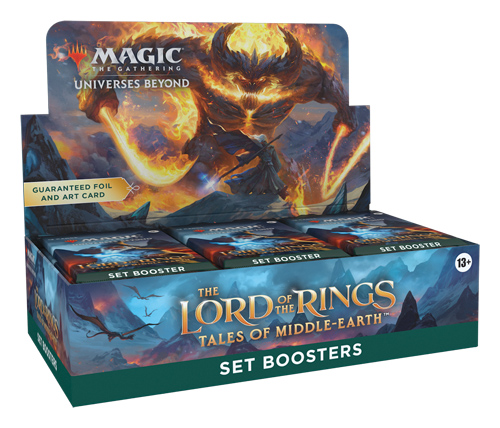 Article details
Manufacturer
: Wizards of the Coast
Language
:

english
Preorder
Release: 23.06.2023
available from 23.06.2023

Description:
The Lord of the Rings: Tales of Middle-Earth - SET-Booster Display
Explore with a Set Booster Ś Designed for a fun pack-opening experience, if you want to explore the set by opening packs just to see what you get, Set Boosters are for you.
Contents:
30 The Lord of the Rings SET booster packs each containing 12 random Magic cards
1 Box-topper card
Distribution of rarities:
1-4 rares or mythic rares
3-7 uncommons
3-7 commons
1 basic land
Foil-Info:
A Traditional Foil Land replaces the basic land in 20% of Set Boosters and a Foil-Stamped Signature Art Card replaces the Art Card in 10% of Set Boosters. A Traditional Foil Borderless Mythic Rare card can be found in <1% of boosters.
Language: English
Release date: 23.06.2023
Article details
Manufacturer
: Wizards of the Coast
Language
:

english